About Me
Hi there. I'm Daniel DeGueldre and I own and operate DeGueldre Knives. By trade I am a third generation, red seal certified, journeyman tool and die maker with well over twenty professional years in the field. From the time I could crawl, I grew up around machinery and steel fabrication. Shaping and working with steel is my passion and it's in my blood. While I truly do love working with steel, there is nothing that I enjoy more while I'm in the shop than a good challenge.
Yes! It's true, I enjoy being challenged but after more than eleven years at the same tool and die facility, I was no longer getting the satisfaction from my regular job that I once did. That's not to say that I was unhappy with my employer - quite the contrary in fact! I work for one of the best companies in Canada and I very much appreciate the incredible opportunity that they grant me on a daily basis. I feel very fortunate that I am able to work for a company that is quite vast and very stable. With that said, after eleven years of working with them I felt that my skill set had grown beyond that of what the company required of me. As a result, I often found myself feeling unchallenged and unfulfilled after a day's work. Ultimately and at the advice of my father, I decided that if I wasn't going to be challenged at my day job then I would challenge myself at home. After all, we learn and grow through challenges and new experiences and I have a deep desire to keep learning. I am one of those people who has an unquenchable thirst for knowledge and I am always interested in learning a learn new skill. From photography, website design, knife making and everything in between, I have always pushed myself to learn, grow and expand. It is fair to say that my love of steel fabrication and my undying need to keep learning resides at the very core of my knife making quest.
In the early fall of 2016 I put the word out that I was looking for an antique coal forge. I had already purchased a couple of vintage hand operated drill presses and I was trying to put together a small but fully functional blacksmith display in my yard. My father had owned a blacksmith shop when I was very young and the thought of recreating that environment for others to experience was appealing to me. It didn't take long before I got a call. A friend of my father's had a forge, an anvil and some hand tools collecting dust and he wanted me to come pick them up. Needless to say, I was quite excited and once I got everything home I quickly went to work cleaning and restoring it.
After I had the forge restored, I started burning what little coal I had. I would experiment with the hot metal and try to get a feel for moving the steel into the shape that I wanted it to be. I live in Manitoba, Canada however, and our winters can be quite harsh. By this time old man Winter was fast approaching and he forced me to move indoors. During the winter months I work in my attached two car garage which houses a modest machine shop. At this juntcure I had decided that I was going to try to fabricate a knife however, I wasn't interested in burning coal inside my attached garage. I just did not have the provisions required do to so – from a safety standpoint.
I made my first knife in the late fall of 2016. Since I was unable to forge the blade outside due to winter weather and coupled with the fact that I was uninterested in burning coal inside my garage, I made my first knife using a process known as the 'stock removal' method. Stock removal requires nothing more than a piece of steel of the appropriate thickness for your desired blade. Then by using various tools such as band saws, hand files, grinders and what not, you simply cut, grind, file and shape the steel into the profile that you desire. Being a tool and die maker this process was very natural to me and it didn't take me long before I had something that loosely resembled a knife blank laying on my work bench.
Somewhere around this time I had decided that I was going to make my very first knife as a Christmas gift for my father. My father is a tool maker of incredible ability and a machinist with an immense skill set. I knew that if I were going to impress my dad then this knife was going to have to be something really special. As a result, I knew that I had to choose a handle material that would bring everything together just right. It was at this point in the process when I decided to add both a brass bolster and a brass pommel to my project. This increased the level of complexity immensely but since the entire point to this project was to challenge myself and to learn something knew, I didn't hesitate. I chose brass hardware for two reasons. I've always liked the look of polished brass and I felt that polished brass would accent a polished steel blade nicely. Not to mention that I had some scrap brass laying around the shop.
I went down to the local hardware store which supplied a good selection of exotic woods and I selected what I felt was a nice wood for the handle. With $100 worth of Cocobolo in my hand, a wood I had never heard of before, I went off to pay for my purchase. It wasn't until I went to pay for it that I was warned of the hazards of working with this particular wood. The individual working the register informed me that cocobolo sawdust can have some very negative side effects on people. Dangerous effects in fact! Cocobolo can cause allergic reactions and respiratory problems (and even failure). Since I really liked the look and feel of the wood, I opted to accept the inherit dangers and continued on with knife making quest - cocobolo (and a dust mask) in hand!
In the end, the knife turned out beautifully and after making a leather sheath for it, it was ready to be gifted to dad for Christmas. It turned out to be quite a hit and dad loved it. As hoped, he was eager to show it off to anyone who seemed interested (and some who didn't). Of course, even before Christmas came around I had showed the finished project off to a few people myself and the feedback that I received was incredible. It was all very encouraging! People were immediately interested in buying one and in fact, a good buddy and fellow motorcycle enthusiast insisted that he buy the second knife that I made. Apparently he felt that I was going places with my knew hobby and he wanted a knife made during my early production years. That may or may not have been the beer talking but he did buy the second knife I made – a custom knife as per his design parameters. I was happy to oblige him and through simple word of mouth and the production of a heirloom quality knives, knife making has become a full time hobby and labor of love.
I've kept my regular job at the tool and die shop and while I often still feel unchallenged with the work that I'm tasked with there, I have found a new way to keep myself interested, challenged and on the learning curve. By challenging myself through my home based machine shop & my knife making studio I have once again been able to enjoy different challenges and overcome some new and interesting obstacles. Mission accomplished! Being a knife maker has been so rewarding on many levels. The challenges are plentiful and the learning curve is steep but it's a hobby that I adore. I love the feedback that I receive from people when they see my knives. Just like at my day job, I take pride in my work and strive for perfection everyday and with every task. I truly do enjoy every minute making knives from home and the best part of all, when done well, knife making is a hobby which truly does pay for itself.
I don't ever expect to get rich by making knives but I do foresee plenty of rewarding hours in the shop, many years of knife making and many more happy customers.
- Daniel A. DeGueldre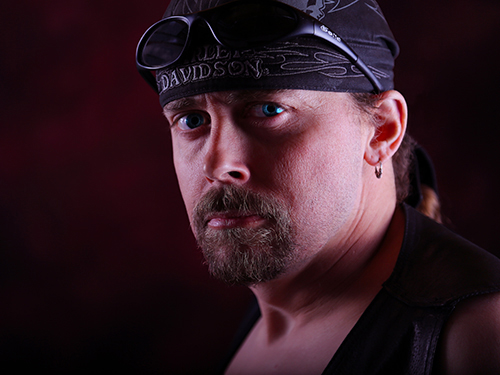 All of the images presented on the DeGueldre Knives website are © 2017 Daniel A. DeGueldre. Copying, redistribution or linking to images found here at DeGueldre Knives is strictly prohibited.